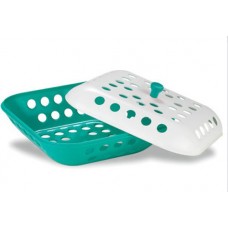 Click to view larger image
This plastic basket with lid is highly durable & attractive and can be used for various purposes in a house. It's ideal for keeping vegetables, fruits or other items.
It gives an organised look to the kitchen and is suitable for storing various kitchen products.
Made from virgin plastic material
Suitable for multiple purpose use in House
Specifications
Product Name
Vegetables Basket with Lid
Model Number
JXAW10662
Material
PolyPropylene
Product Weight (Kgs)
0.475
Product Applications
Multipurpose use in House, kitchen and Restaurants
Country of Manufacturing
India
Carton Quantity (Pcs Per carton)
20
Customization of Product
Available
Vegetables Basket with Lid