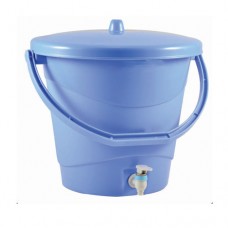 Click to view larger image
This 20L plastic bucket with lid & tap is best used to dispense smaller quantities of liquids quickly and spill free. This buckets are highly durable and manufactured using the superior quality plastic material.
This bucket comes with plastic moulded bucket carry handle to ensure a better grip. Tap is very securely fitted onto the bucket.

Securely fitted screw tap, no leakage

Suitable for dispensing liquid products easily
Heavy-duty construction
Moulded handle for easy carrying
Comes with tight lid
Specifications
Product Name
Plastic Bucket with Lid & Tap 20 L
Model Number
JXAW10576
Capacity (L)
20
Shape
Round
Graduation Markings (L)
Yes
Lid Available
YES
Product Weight (Kgs)
1.205
Product Applications
Residential, Restaurant use
Country of Manufacturing
India
Carton Quantity (Pcs Per carton)
15
Customization of Product
Available
Bucket with Lid & Tap 20L