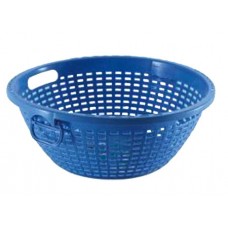 Click to view larger image
Multipurpose plastic baskets are highly demanded due to their attractive look, large storage capacity and easy to wash. These baskets are available in attractive colours.
It can be used for multiple purposes in House & Restaurant. One can use it for keeping vegetables, fruits, cutlery or other items.
Easy grip handle to carry
Larger Size -20"
Available in attractive colours
Made of virgin plastic material
Suitable for multiple purpose use in House and in Industry
Specifications
Product Name
Multipurpose Plastic Basket with handles 20"
Model Number
JXAW10642
Size
20"
Material
PolyPropylene
Product Weight (Kgs)
0.725
Product Applications
Multipurpose use in House and Restaurant
Country of Manufacturing
India
Carton Quantity (Pcs Per carton)
20
Customization of Product
Yes
Multipurpose Basket with handles 20"